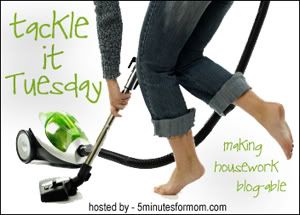 It's 'Tackle it Tuesday' and I will be tackling my shame today...my kitchen! I have been on my computer for weeks trying to work out all this blog stuff and fell behind in my housework bigtime!! My two youngest son's have taken notice of my unusual cleaning habits lately and made comments about it. This really bothered me, even more than my messy kitchen.
I am usually a tidy person for the most part and this is way out of character for me. Just like most moms, I let a few things go once in a while but lately it's been piling up, even the laundry! My new found passion for blogging has caused me to fall behind in my housework and today I have to catch up! Today I leave my computer alone for 5 minutes and clean.
Feel free to post in the comment box below Mr. Linky and tell us what you plan to catch up on today!